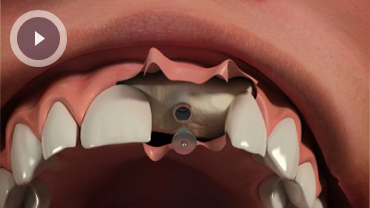 A dental implant is, essential, an artificial replacement tooth root. Dental Implants are excellent, permanent solutions for patients who have lost one or more teeth, with several benefits over other solutions such as unsecured dentures, one of the main ones being that implants are the only tooth replacement products that help to prevent bone loss by integrating with the jaw bone.
As the population in general lives longer, dentists have seen an increasing demand for replacement teeth. Dental implants are one of the fastest growing areas of modern dentistry.
If you have lost one or more teeth, be that through accident, injury, decay, gum disease or just as part of the natural aging process, you may find that you want to hide your mouth when you smile and laugh in public. This can have a serious impact on your self-confidence. Losing teeth may also affect how you bite, chew and speak, while remaining teeth may try to move into the gap, becoming crooked.
As time passes, the bone beneath missing teeth also starts to degenerate, which can cause a sagging, prematurely aged appearance to the face. Dental implants can help stop this from happening.
Dental implants are small titanium screws or cylinders, which are placed directly into the jaw bone in a minor surgical procedure. They gain instant stability from this careful positioning, and over time begin to integrate with the bone. They can then support replacement teeth in the form of crowns, bridges or secured dentures.
At Park Lane Dental, all of our implants are placed by Dr Uday Patel, who has a passion for advanced Cosmetic and Restorative dentistry along with a special interest in Implantology.
In many cases it is possible to place dental implants at the same time as a failed tooth is removed, and in most cases they can be placed under local anaesthetic, although treatment under conscious sedation is also available.
Integration with the bone takes a few months, during which time you may have a temporary crown, bridge or denture fitted. Once integration has taken place, your permanent replacement tooth or teeth will be fitted.
Uday can also treat more complex cases where bone has degenerated (if you have been wearing full dentures for a long time, for example) using bone graft and sinus lift procedures.